News and Media
Read Bill's article "Egypt, Paris, and Me" here.
Read Bill's article "The Ultimate Road Trip: Traveling To Pakistan" here
---
See images from the last National Geographic trip in November 2017. Thank you to Fred Bryla for the wonderful montage.
---
Check out Bill Jones in Bhutan in this clip, "The Wonder List | Season 2 Episode 4 | Bhutan: The Happiest Place on Earth".
---
In this article (Across the Roof of the World) The Observer Jan 11, 1987 (page 43), Alexander Frater, chief travel correspondent mentions Bill in the 3rd paragraph. "Our tour escort was a lean, bespectacled Mandarin speaker named Bill Jones who could discourse on sixteenth-century Venetian music or early Buddhist art while drinking his listeners under the table, and who took us to China only 48 hours after he brought another party out." You can download the full article here.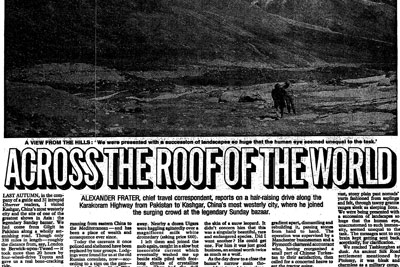 ---
Ideas and insight from explorers, ascending Bhutan's Sacred Tiger's Nest.
Check out the testimonial from Jennifer Tasker Australia!